The two sides of TUI: crisis-hit holiday giant turned deportation specialist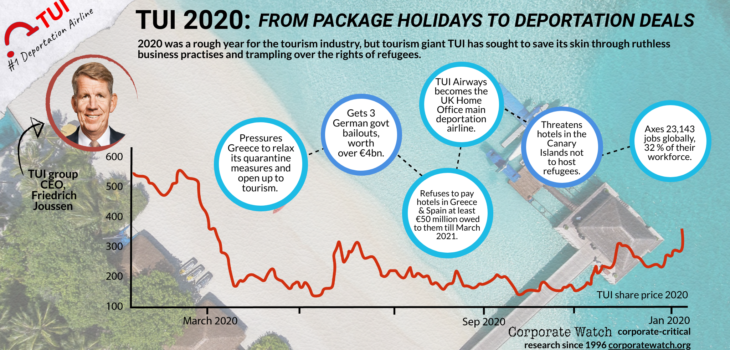 2020 was a rough year for the tourism industry, with businesses worldwide cancelling holidays and laying off staff. Yet one company has been weathering the storm with particular ruthlessness: the Anglo-German giant TUI.
TUI (Touristik Union International) has been called the world's biggest holiday company. While its core business is selling full-package holidays to British and German families, 2020 saw it taking on a new sideline: running deportation charter flights for the UK Home Office. In this report we look at how:
TUI has become the main airline carrying out charter deportation flights for the UK Home Office. In November 2020 alone it conducted nine mass deportations to 19 destinations as part of Operation Sillath, and its deportation flights continue in 2021.
TUI lost over €3 billion last year. But the money was made up in bailouts from the German government, totalling over €4 billion.
TUI's top owner is oligarch Alexey Mordashov, Russia's fourth richest billionaire who made his fortune in the "Katastroika" of post-Soviet asset sell-offs. His family holding company made over €100 million in dividends from TUI in 2019.
In 2020, TUI cut 23,000 jobs, or 32% of its global workforce. But it carried on paying out fat salaries to its bosses – the executive board waived just 5% of their basic pay, with CEO Fritz Joussen pocketing €1.7 million.
Other cost-cutting measures included delaying payments of over €50m owed to hotels in Greece and Spain.
TUI is accused of using its tourist industry muscle to pressure the Greek government into dropping COVID quarantine requirements last Summer, just before the tourist influx contributed to a "second wave" of infections.
It is also accused of pressuring hotels in the Canary Islands to stop hosting migrants arriving on wooden boats, fearing it would damage the islands' image in the eyes of TUI customers.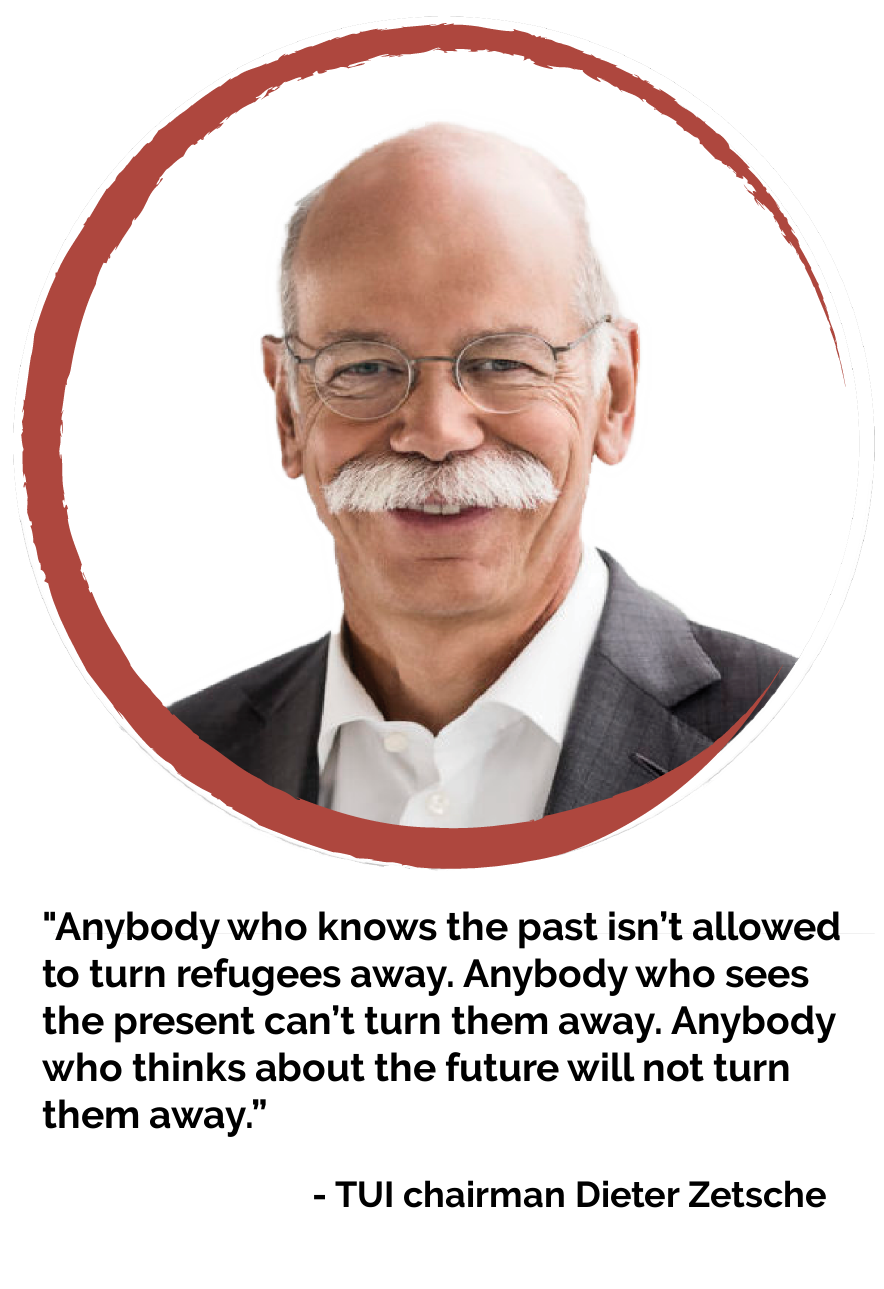 TUI: from heavy industry to holiday giant
Calling itself the 'world's leading tourism group', TUI has 277 direct and indirect subsidiaries. The parent company is TUI AG, listed on the London Stock Exchange and based in Hannover and Berlin.
TUI describes itself as a 'vertically-integrated' tourism business. That means it covers all aspects of a holiday: it can take care of bookings, provide the planes to get there, accommodate guests in hotels and cruises, and connect them with 'experiences' such as museum vists, performances and excursions. Recent company strategy buzz highlights the use of digitalisation – 'driving customers' into buying more services via its apps and online platforms. Where it can't do everything in-house, TUI also uses other airlines and works extensively with independent hotels.
TUI's major assets are:
Hotels. By September 2020 the company ran over 400 hotels, the most profitable of which is the RIU chain, a company jointly owned by the Mallorca-based RIU family.
Cruises. TUI owns three cruise companies – TUI Cruises, Hapag-Lloyd Cruises and Marella Cruises – which between them operate 17 vessels.
Airlines. TUI has five airlines with a total fleet of 137 aircraft. 56 of these are operated by its biggest airline, the British company TUI Airways. Collectively, the airlines under the group are the seventh largest in Europe.
TUI also runs the TUI Care Foundation, its vehicle for green PR, based in the Hague.
The company has a long history dating back to 1923 – though it is barely recognisable from its earlier embodiment as the energy, mining and metalworking group Preussag, originally set up by the German state of Prussia. Described by some as the "heavy industrial arm" of the Nazi economy, Preussag was just one of many German industrial firms which benefited from forced labour under the Third Reich. It transformed itself into a tourism business only in 1997, and completed a long string of acquisitions to become the behemoth it is today – including acquiring leading British travel agents Thomson in 2000 and First Choice Holidays in 2007.
TUI holidaymakers are mostly families from the UK and Germany, with an average ticket for a family of four costing €3,500 . The top five destinations as of Easter 2019 were, in order: Spain, Greece, Egypt, Turkey, and Cape Verde.
The UK branch – including TUI Airways, which is responsible for the deportations – is run out of Wigmore House, next to Luton Airport in Bedfordshire. The UK managing director is Andrew "Andy" Flintham. Flintham has been with TUI for over 15 years, and previously worked for British Airways and Ford.
Dawn Wilson is the managing director of TUI Airways. and head of airline operations on the TUI aviation board, overseeing all five of TUI's airlines. Wilson is also a director of TUI UK. Originally from Cleethorpes, Wilson's career in the industry began as cabin crew in the 80s, before rising up the ranks of Britannia Airways. Britannia's parent company Thomson was acquired by TUI in 2000.
TUI's crisis measures: mass job losses, deportations, and more
Before the pandemic TUI was a success story, drawing 23 million people a year to sun, sea, snow or sights. In 2019, TUI was riding high following the collapse of its key UK competitor, Thomas Cook. It branched out by adding 21 more aircraft to its fleet and picking up a number of its rival's former contracts, notably in Turkey. TUI's extensive work in Turkey has recently made it a target of the Boycott Turkey campaign in solidarity with the Kurdish people. The one bum note had been the grounding of its Boeing 737 MAX airliners, after two crashes involving the aircraft forced the worldwide withdrawal of these planes. Despite that, the company made close to €19 billion in revenues in 2019, and a profit of over €500 million. Most of that profit was handed straight to shareholders, with over €400 million in dividends. (See: Annual Report 2019). And the future looked good, with record bookings for 2020.
Then came COVID-19. By the end of the 2020 financial year, travel closures had resulted in losses of €3 billion for TUI, and a net debt of €4.2bn. To stay afloat, the company has managed to pull in handouts from the German state, as well as backing from its largest shareholder, the Russian oligarch Alexei Mordashov. It has also turned to a number of controversial business practices: from mass job losses to becoming Brexit Britain's main deportation profiteer.
Here we look at some of what TUI got up to in the last year.
Government bailouts
Had it been left to the free market, TUI might well have gone bust. Fortunately for TUI's investors, the German government rode to the rescue. In total, the state – working together with some banks and private investors – has provided TUI with €4.8bn in bailout funds to see it through COVID-19.
The vast bulk of this money, €4.3 billion to date, has come from German taxpayers. TUI received a €1.8 rescue loan from state development bank KsF in April 2020, followed by another €1.2 billion package in August. The third bailout, agreed in December 2020, totalled €1.8 billion. €1.3 billion of this was more government money – from the German Economic Support Fund (WSF) as well as KsF.
While some was a straight loan, portions came as a "silent participation" convertible into shares in the company – that is, the state has the option to become a major TUI shareholder. The deal also involved the government having two seats on TUI's supervisory board. The German state is now intimately involved in TUI's business.
The other €500m was raised by issuing new shares to private investors. TUI's largest owner, Alexey Mordashov, agreed to take any of these not bought by others – potentially increasing his stake in the company from 25% to as much as 36% (see below).
Slashing jobs
Alongside bail-outs, another key part of TUI's response to the COVID crisis has been to hit the staff. Back in May 2020 there was widespread media coverage when TUI announced it would make 8,000 job cuts globally. Then in July 2020, the company announced it would close 166 of its 516 travel agencies in the UK and Ireland at a cost of 900 jobs.
But these announcements turned out to be just the beginning. In the 2020 Annual Report, published in December 2020, TUI quietly announced that it had in fact cut 23,143 jobs – that is 32% of its total staff.
Particularly hard hit were hotel staff, whose numbers fell by over 13,000, 46% of the total. The workforce of TUI's excursions and activities division, TUI Musement, was cut in half with almost 5,000 job losses (Annual Report, p88). And these figures do not include staff for TUI Cruises (JV), a joint venture company whose employees are mainly hired through agencies on temporary contracts.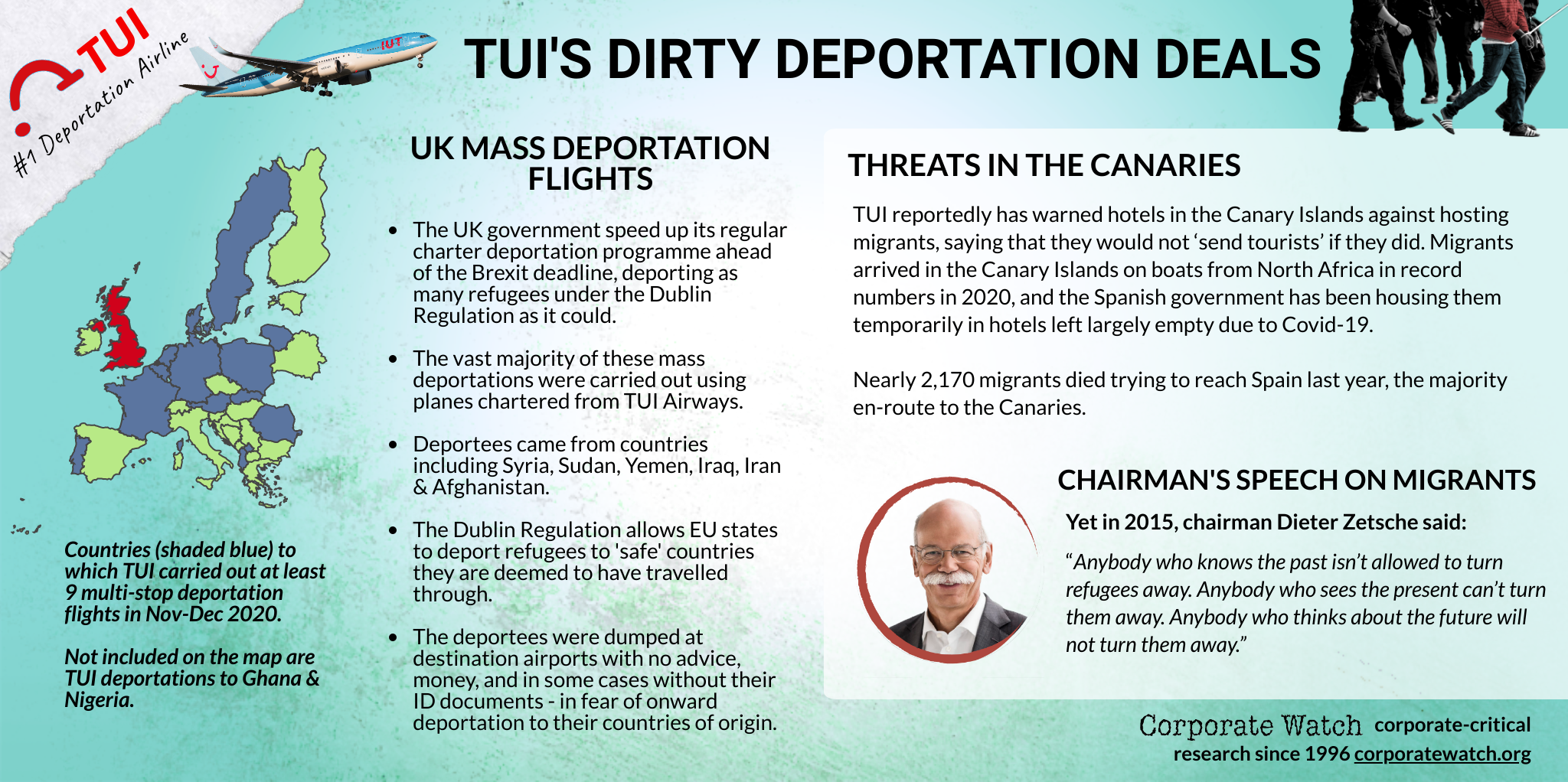 Home Office deportation airline of choice
TUI is not known to have been previously involved in deportations from the UK, Germany or any other country. But since August 2020, its UK subsidiary TUI Airways has suddenly become the UK's top deportation airline. It carried out the vast majority of mass deportation charter flights from the UK between August and December 2020, and continues to do so in January 2021.
This included many of the rush of pre-Brexit "Operation Sillath" deportations to European countries before the New Year – where the Home Office pushed to expel as many refugees as possible under the Dublin Regulation before it crashed out of this EU agreement. But it also works further afield: TUI carried out all charter deportations from the UK in November, including one to Ghana and Nigeria.
Because of this, TUI looked a likely candidate to be operating the so-called 'Jamaica 50' flight on 2 December, and was one of a number of possible airlines targeted by a social media campaign. However, the company eventually clarified it would not be doing the flight – Privilege Style, whom Corporate Watch recently reported on, turned out to be the operator. It is unclear whether or not TUI had originally been booked and pulled out after succumbing to public pressure.
No hospitality in the Canary Islands
The company's disregard for the lives of refugees is not limited to deportation deals. In the Canary Islands, a local mayor revealed that TUI (along with British airline Jet2) had warned hotels not to provide emergency shelter to migrants, threatening it would not 'send tourists' if they did.
Record numbers of African migrants arrived on wooden boats to the islands in 2020, and some have been accomodated in the hotels at the state's expense. Nearly 2,170 migrants died trying to reach Spain that year, the majority en-route to the Canaries. The islands had seen a dramatic fall in holidaymakers due to the pandemic, and many hotel rooms would have sat empty, making TUI's threats all the more callous.
Pushing back against Greek COVID-19 measures
TUI has been pressing destination countries to reopen to tourists following the first wave of the Coronavirus pandemic. This has become a particular issue in Greece, now the company's number one destination where TUI has been accused of exerting pressure on the government to relax anti-COVID measures last Summer.
According to a report in German newspaper BILD (see also report in English here), TUI threatened to cancel all its trips to the country unless the government dropped quarantine regulations for tourists. The threat was reportedly made in negotiations with the Greek tourism minister, who then rushed to call the Prime Minister, who backed down and rewrote the Government's COVID-19 plans.
Greece had been viewed as a rare success story of the pandemic, with the virus having largely been contained for months – until early August, a few weeks after it welcomed back tourists. Some have blamed the country's "second wave" of COVID-19 infections on the government's "gamble of opening up to tourists".
Leaving hotels in the lurch
Despite having pushed destination countries to increase their COVID-19 exposure risks by encouraging tourism, the company then refused to pay hoteliers in Greece and Spain millions of euros owed to them for the summer season. Contractual changes introduced by TUI forced hotels to wait until March 2021 for three-quarters of the money owed. In Greece, where the company works with over 2,000 hotels, the sum owed is said to be around €50m, with individual hotels reportedly owed hundreds of thousands of euros. This money is essential to many businesses' survival through the low season.
TUI's actions are perhaps all the more galling in light of the enormous government bailouts the company received. In the company's 2020 Annual Report, amid sweeping redundancies and failure to pay hoteliers, CEO Fritz Joussen had the arrogance to claim that "TUI plays a stabilising role in Southern Europe, and in Northern Africa too, with investment, infrastructure and jobs."
Rolling in it: who gains
The supposed rationale for government COVID bail-outs, in Germany as elsewhere, is to keep the economy turning and secure jobs. But that can't mean much to the third of its work force TUI has sacked. If not the workers, who does benefit from Germany funneling cash into the holiday giant?
TUI's bailout deals with the German government forbade it from paying a dividend to shareholders in 2020. Although in previous years the company operated a very high dividend policy indeed: in 2018 it handed over €381 million, or 47% of its total profit, to its shareholders. They did even better in 2019, pocketing €423 million – or no less than 80% of company profits. They will no doubt be hoping that the money will roll in again once COVID-19 travel restrictions are lifted.
| | | | |
| --- | --- | --- | --- |
| | 2018 | 2019 | 2020 |
| Revenue | €18.47 billion | €18.93 billion | €7.94 billion |
| Profit after tax | €813 million | €532 million | – €3.13 billion |
| Dividends | €381.3 million | €423.3 million | 0 |
Source: TUI Annual Reports for 2020 and 2019
Meanwhile, it appears that the crisis barely touched TUI's executives and directors. According to the 2020 Annual Report (page 130), the company's executives agreed to a "voluntary waiver of 30% of their fixed remuneration for the months of April and May 2020". That is: just a portion of their salary, for just two months. This added up to a drop of just 5% in executive salaries over the year compared with 2019.
Again: this was during a year where 32% of TUI staff were laid off, and the company lost over €3 billion.
In a further great show of sacrifice, the Annual Report explains that "none of the members of the Executive Board has made use of their right to reimbursement of holiday trips which they are entitled to according to their service agreements." TUI is infamous for granting its executives paid holidays "without any limitation as to type of holiday, category or price" as an executive perk (page 126).
After his 5% pay cut, CEO Fritz Joussen still made €1,709,600 last year: a basic salary of €1.08 million, plus another €628,000 in "pension contributions and service costs" including a chauffeur driven car allowance.
The next highest paid was none other than "labour director" Dr Elke Eller with €1.04 million. The other four members of the executive board all received over €800,000.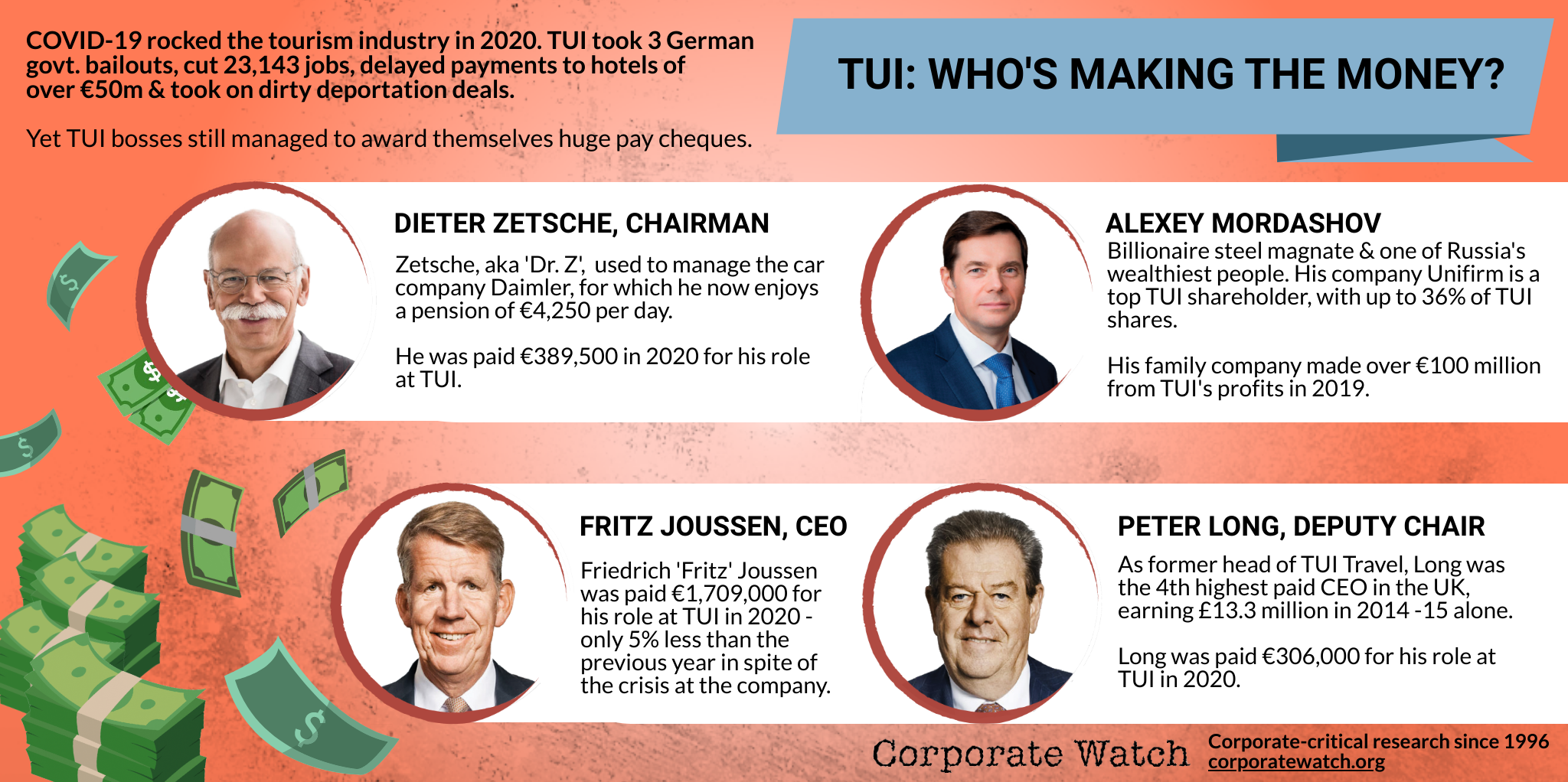 The top dogs
Who are these handsomely paid titans of the holiday industry? TUI's CEO is Friedrich "Fritz" Joussen, based in Germany. Originally hired by TUI as a consultant, Joussen has a background in the German mobile phone industry and was head of Vodafone Germany. The slick CEO can regularly be found giving presentations about the TUI 'ecosystem' and the importance of digitisation. Besides his salary, Joussen also benefits from a considerable shareholding accrued through annual bonuses.
Overseeing Joussen's executive team is the Supervisory Board, chaired by the Walrus-moustachioed Dr. Dieter Zetsche, or 'Dr. Z', who made his fortune in the management of Daimler AG (the car giant that also owns Mercedes–Benz, and formerly, Chrysler ). Since leaving that company in 2019, Zetsche has reportedly been enjoying a Daimler pension package of at least €4,250 a day. TUI topped him up with a small fee of €389,500 for his board duties in 2020 (Annual Report p140).
With his notable moustache, Dr. Z is a stand-out character in the mostly drab world of German corporate executives, known for fronting one of Daimler's US ad campaigns in a "buffoon tycoon" character. At the height of the Refugee Summer of 2015, Dr. Dieter Zetsche abruptly interrupted his Frankfurt Motor Show speech on the future of the car industry to discuss the desperate situation facing Syrian refugees.
He said at the time: "Anybody who knows the past isn't allowed to turn refugees away. Anybody who sees the present can't turn them away. Anybody who thinks about the future will not turn them away." Five years later, with TUI the UK's top deportation profiteer, this sentiment seems to have been forgotten.
Another key figure on the Supervisory Board is Deputy Chair Peter Long. Long is a veteran of the travel industry, having been CEO of First Choice, which subsequently merged with TUI. He is credited with pioneering Turkey as an industry destination.
Long is a controversial figure who has previously been accused of 'overboarding', i.e. sitting on the directors' boards of too many companies. Described as a "serial part timer", he was executive chairman of Countrywide PLC, the UK's largest estate agency group, but stepped down in late November 2020 after apparently ruffling shareholders' feathers over a move that would have given control of the company to a private equity firm. In 2018, Countrywide was forced to abandon attempts to give bosses – including himself – shares worth more than £20m. Long also previously stepped down as chairman of Royal Mail after similarly losing shareholder support over enormous executive pay packages. In his former role as as head of TUI Travel, he was among the UK's top five highest earning CEOs, with a salary of £13.3 million for the year 2014 -15.
The man with the money: Alexey Mordashov
But all the above are paupers compared to TUI's most powerful board member and top shareholder: Alexey Mordashov, a Russian oligarch who is reportedly the country's fourth richest billionaire, with a fortune of over $23 billion. His family holding company is TUI's main owner with up to 36% of company shares.
Mordashov's stake in TUI is held through a Cyprus-registered holding company called Unifirm.
In 2019, Mordashov transferred 65% of his shares in Unifirm to KN-Holding, a Russian company owned jointly by his two sons, Kirill and Nikita, then aged 18 and 19. However, Russian media report that after the younger son Nikita was kicked out of university in 2020, he was sent to the army, and his shares transferred to Kirill.
It may not be massive money to Mordashov, but his family company have certainly done well out of TUI. In 2019 TUI paid out €423 million in dividends to its shareholders, no less than 80% of total profits. At the time Unifirm owned one quarter (24.95%) of TUI. That means the Mordashovs will have received over €100 million on their investment in TUI just in that one year.
"Steel king" Alexey Mordashov's rise to the height of the global mega-rich began with a typical post-Soviet privatisation story. Born in 1965, the son of steel workers, he studied economics and accountancy and by 1992 was finance director of a steel plant in his hometown of Cherepovets. In the early and mid-1990s, the great Russian "Katastroika" sell-off of state assets saw steel mill and other workers handed shares in the former collective enterprises. In the midst of an economic collapse, workers sold on their shares to pay food and heating bills, while the likes of Mordashov built up massive asset portfolios quick and cheap. In the next privatisation phase, the budding oligarchs were handed whole industries through rigged auctions.
Mordashov turned his steel plant holdings into a company called Severstal, now among the world's largest steel firms. He then expanded Severstal into Severgroup, a conglomerate with holdings in everything from airports to goldmines (Nordgold) to supermarkets (Lenta), to mobile phone networks (Tele2 Russia), as well as the local hockey team Severstal Cherepovets. Vladimir Lukin, Mordashov's legal adviser at Severgroup, is also a member of the TUI Supervisory Board.
Business media paint Mordashov as less flamboyant than your average oligarch. His new megayacht Nord, built in Germany and registered in the Cayman Islands, is only 142 metres long – 20 metres shorter than Roman Abramovitch's Eclipse.
In December 2020, TUI declared that Unifirm owned 25% of its shares. But the number will have increased in TUI's third bail-out deal in January: as well as more money from the German government and its banks, Unifirm agreed to inject more cash into the company in return for boosting its ownership, buying up new shares to a maximum of 36%. The exact current holding has not yet been announced.
TUI's increasing control by Mordashov was approved by the German financial regulator Bafin, which stepped in to exempt him from a rule that would have required Unifirm to bid for a full majority of the shares once it held more than 30%.
Other shareholders
Unifirm is the only shareholder with over 10% of TUI shares. Some way behind, Egyptian hotel-owning businessman called Hamed El Chiaty has a stake of just over 5%, via the Cyprus-based DH Deutsche Holdings. But most of TUI's shares are owned in smaller chunks by the usual suspects: the global investment funds and banks that own the majority of the world's assets.
In December 2020 these funds each had over 1%: UK investor Standard Life Aberdeen; giant US-based fund Vanguard; Canada's state pension system; and Norges Bank, which manages the oil-rich national wealth fund of Norway. Two other major investment funds, Pioneer and BlackRock, had around 0.5% each. (NB: these numbers may have changed after the new January share sale.)
TUI can't take its reputation for granted
A company of TUI's size backed by the German government and a Russian billionaire may seem impervious to criticism. On the other hand, unlike more specialist charter airlines, it is very much a public facing business, relying above all on the custom of North European families. The endless stream of negative reviews left by disgruntled customers following cancelled TUI holidays in 2020 have already tarnished its image.
In a sign of just how worried the company may be about its reputation, it put out a tender in the autumn for a new PR agency to take care of "relaunching the brand into the post-Covid world". This was ultimately awarded to the US firm Leo Burnett. If outrage at the UK's deportation push keeps up, TUI might well need to pay attention to online campaigns or demonstrations at its travel agents.
Another vulnerability the company has itself identified is political instability in destination countries, as evidenced by TUI's nervousness over migrant arrivals in the Canary Islands. Here too, its image is being harmed by actions such as exerting pressure on the Greek government to relax COVID measures, and its treatment of independent hotels. TUI cannot take public support for granted in top destinations such as Greece and Spain, where campaigning at its resorts could play a role in shifting company policy.
Thanks to Disinfaux and Stop Deportación for their contributions to this report.