Three companies, three pay rises: talking tactics with a courier union
/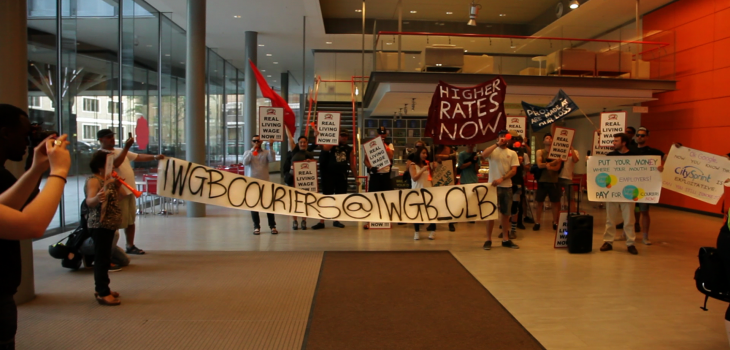 [responsivevoice_button]
Mags Dewhurst from the Independent Workers Union of Great Britain (IWGB) Couriers and Logistics branch tells Corporate Watch how they have won better pay from London's biggest courier companies and discusses the future of the industry.
So far IWGB couriers from three different companies have organised and have won the London Living Wage. Why do you think the union has been successful?
A number of reasons but the first is solidarity. We've developed solidarity with each other as couriers through union membership, meetings and protests; with other workers, other workplaces and unions; with the general public via online petitions, the press and social media; and other supportive organisations (such as Reel News and Corporate Watch!) as well as political individuals, such as Sian Berry and Natalie Bennett from the Green Party. Everybody's help and support has been really important because it contributes to a feeling of pressure from every direction – and each target company has to be really sweating to give a pay rise!
Campaigns often have peaks and troughs, which can be quite overwhelming, especially to inexperienced campaigners and protesters. When workers feel deflated or defeated, it's particularly important to have outside support at that time to keep up the morale, and keep momentum moving forward, otherwise the fear of defeat can become contagious and spread through the group, killing off any resistance. That's when outside support really matters.
The key tactic of attacking the supply chain and clients of the target business really has worked well too. We have subjected them to so much pressure that eventually they have had to take notice. It has only taken one or two of them to side with us before our target courier companies have fallen over and complied with our demands. In addition, we kept really 'on message' with the media, demanding the same thing (the London Living Wage plus costs), playing the companies off against each other in the market.
And we have become more efficient as an organisation, learning from our mistakes and experiences. When we started, our first campaign was against CitySprint and it took nine months to win. Our second target – eCourier – caved after four months, and our latest – Mach 1 – took only four weeks.
We're not done with the courier industry – there are still many nasty companies operating by exploiting couriers. But now we're expanding into food delivery as well and are taking on the likes of Deliveroo and Uber.
Fundamentally, if we are going to win against them, we'll have to keep doing what we're doing, but on a much, much bigger scale. London has about 200-300 bicycle couriers that work the traditional sector between 7am and 7pm. Food delivery is predominantly in operation from 11am-11pm, and has about 3,000-4,000 couriers working in London. It's probably going to be a big and long fight. We'll have to encourage people, build solidarity, social networks, and re-educate people about how to run effective campaigns if we are going to win at Deliveroo and Uber.
How did the branch start?
In December 2014, the pushbike fleet at London's second biggest courier company, eCourier, went on strike for an hour or two in Lincoln's Inn Fields, in protest over pay and conditions. Not all the couriers joined the strike but perhaps 50% did, causing immediate disruption and delays to work. At the same time, two of us from CitySprint met up to discuss if and how we could unionise. We joined up with one of the leaders of the eCourier strike, and another highly respected courier in London.
Together we met with the IWGB Union to ask if we could join and if they could help us campaign for change in our industry. The IWGB said yes, but we'd have to start our own branch because they only took cleaners, porters and security guards at the time. So we organised an open meeting for one month later, and tried to flier-drop London to inform as many couriers as we could.
The Couriers and Logistics branch was then formed by couriers across London from the biggest five courier companies, as well as many smaller ones, at a mass, open meeting in February 2015. At the open meeting, we put the case for action forward, saying we had nothing to lose, given how crap our situation was, and convinced people to join together with the plan being to build a campaign for a pay rise. In the first few meetings, it was decided that we'd go for CitySprint. We decided we wanted to stay self-employed, that we'd go for the London Living Wage, and that we'd start contacting clients to pressure them too.
What other struggles or campaigns have you learnt from?
In particular, the IWGB Union's cleaners' campaigns for the London Living Wage and the 3 Cosas Campaign at the University of London. Those were all really inspiring because they used solidarity to win too. Also, a recent important campaign was the BESNA dispute, which was conducted by self-employed building workers – primarily electricians. Couriers could relate to the self-employment status and see that others had fought and won – through relentless campaigning and sheer hard work.
Couriers in other cities around the world have unionised too, particularly in Dublin and Sydney, but people here don't actually know that much about them!
You've won the Living Wage – which is great, obviously – but the people at the top of a big company like CitySprint are still earning far more than the couriers, without risking their lives weaving in and out of traffic every day. Do you think there's scope to increase your demands beyond the Living Wage at some stage?
Yes. We are doing that a bit via the courts at the moment, claiming "worker" status, which is somewhere between employee and independent contractor. If we win, which we should do, we will gain a set of basic employment rights, which we've never had before, and which a lot of people take for granted. Things like the right to the minimum wage, paid annual leave and protection from various discrimination.
But, I am a firm believer in campaigning – and that it's a much faster route to change than going through courts or politicians. Even if we're not legally entitled to such things, we can and should campaign for them; after all, we aren't entitled to the minimum wage but we still fought for, and won, the London Living Wage.
How do you see the delivery industry developing going forward?
Things will be app-based soon. No more XDA devices, which will mean it'll be easier for us to work for more than one company at once.
Depending how much pressure we put on, how involved the government gets, and how big we grow in terms of membership, we could make some big changes in the way the industry works in the coming months and years. It feels like the government will end up getting more involved soon, probably over employment status more than industry regulation (which would be my preference) but I hope that we'll get big enough to basically operate as a regulator of our own!