Tidemill: County Enforcement – Lewisham Council's private army in skull masks
/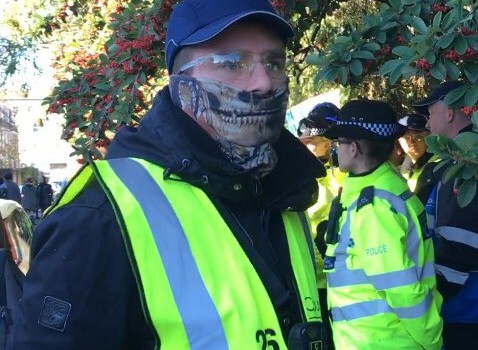 As we write this, about 50 burly security guards are surrounding the Tidemill community garden. They have been there round the clock since the eviction on 29 October. (See factsheet on the Deptford Tidemill development). Some have been photographed wearing balaclavas and skull masks — similar to those often worn by neo-fascist gangs. But they all wear yellow high-vis vests marked with the name County Enforcement.
£1 million per month for security at Tidemill
The guards at Tidemill are themselves paid £15 per hour for a day shift, and £24 at night. There are between 40 and 60 guards on site at any time. Taking an average of wages and guard numbers, and ignoring wage differences for supervisors and specialists (for example, dog handlers), the wage bill for the occupation is roughly £23,400 per day.
County Enforcement will charge Lewisham substantially more than that. For example, it will factor in any employer costs such as insurance and National Insurance, its management and admin, payments to any agencies or sub-contractors, and of course its a profit margin. We will use a very conservative estimate and assume that these costs are only 50% of the wage cost.
That gives a rough but conservative estimate of £35,000 per day. In other words, £245,000 per week – or over £1 million per month, if the siege continues.
The real figure could in fact be significantly higher. People have submitted Freedom of Information requests to try to get the exact figures, but we do not expect the council to reply before December.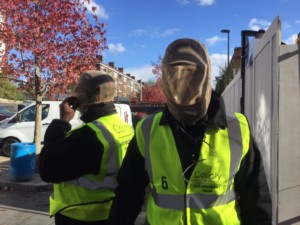 Who are County Enforcement?
County Enforcement is a name well known to squatters and housing activists in London. They are the "go to" bailiff company firm used by many London councils when evicting occupied buildings or protest sites, as well as by many big banks and property developers. They are known for their readiness to use force.
County is a family business. It was founded by "senior partner" Peter Mooney, and his son Marc Peter Mooney is "head of enforcement". According to the story on County's website, the elder Mooney started out as a private detective and bailiff mentored by his stepfather, an ex-cop called Frank Sherlock. Mooney appears particularly proud of two jobs he carried out as a young bailiff:
"Peter was the process server who personally served Arthur Scargill and his fellow union representatives with the injunction that froze the assets of the union and ended the minors strike. He also served the union representatives in the disputed move from Fleet street to Wapping by the Sun newspaper group with the injunction that seized the assets of the Unions that ended the dispute."
So the favourite security company of "left-wing" Lewisham Labour council is run by a man who boasts of his role in smashing trade unions.
Mooney also owns a valuers and auctioneers company called Sherlocks. This sells goods seized by the police and other bailiffs – as well as by County itself. So the Mooneys can make a double cut by evicting and seizing people's property, then selling it on.
Both the County and Sherlocks businesses are operated from a small shopfront at 16 Bourne Road in Bexley, Kent.
County claims to be a "small company", exempt from publicly declaring its income and detailed accounts at Companies House.i "Small companies" typically have income under £10 million per year, and employ less than 50 staff.
Although there are well over 50 guards working for County at Tidemill, it is likely that very few of these are direct or permanent employees of the company. Most are likely to be temporary or agency staff, or sub-contracted from other security firms.
Testimonies of violence
We would like to collect more information on County Enforcement, and on any other security companies working at Tidemill and other gentrification schemes. In particular, it would be helpful to collect testimonies of violence committed by guards, and any information on guards' possible links to far right movements – as potentially suggested by the use of skull masks. Here are some witness statements we have received so far.
Account from someone who tried to take pictures of the eviction of the Royal Mint protest in 2015:
"I arrived there outside the occupation and took out my phone to take a picture to put on twitter. Suddenly three or four guys just grabbed me from behind. They were all big guys, without any warning they wrestled me to the ground and literally dragged me along the gravel, banging me on the ground along the alley. That was just for trying to take a photo of what was happening."
An account from someone involved in the Elephant & Castle social centre in 2015. (This was a 200 year old pub, threatened with redevelopment, which was occupied and became an important flashpoint in the 2015 anti-gentrification struggle):
"That was the the only time I've ever woken myself up with my own screams. Me and *** were sleeping upstairs, they bust in through the windows, like 5 massive guys at once, I was screaming before I was awake. We'd had some trouble with a local dealer and I thought it was them at first because they were so violent with us, I thought I was gonna to die, wasn't really dressed much. I was getting my clothes on, they grabbed *** and dragged him down the stairs head-first hitting him. He was really fucked up. I ran after but they'd already got him down. Was too quick to film anything. I didn't talk really till the end of the day when I started laughing. Think it's had an massive effect on ***, he was pretty traumatised, he put a brave face on straight away after but I think it really affected him. The County people were smiling and laughing after the eviction."
Please get in touch if you have any information to share. All information will be treated confidentially. Email us on contact(at)corporatewatch.org. You can also contact us using PGP encrypted email or through our secure contact form.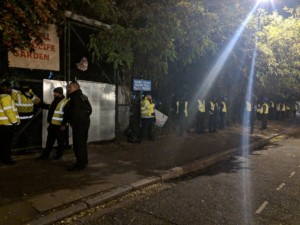 Footnotes
iThe Companies House entries also show a number of "dormant" companies run by the Mooneys. The current legal name of the business is County Enforcement, but "County Security", "County Bailiffs" and other variants have also been used in the past.