Tidemill update: the trees come down, the battle for Deptford continues
/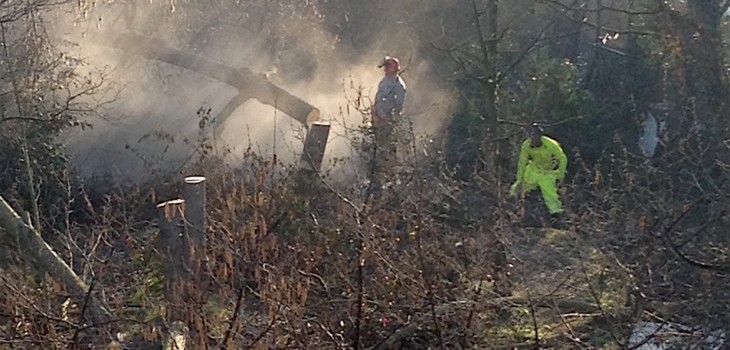 [responsivevoice_button]
Corporate Watch has been glad to support Deptford people fighting the destruction of council homes at Reginald House and of the Old Tidemill community wildlife garden. Back in November, we contributed to the campaign by writing a factsheet on the gentrification scheme and reports on main developer Peabody, the Lewisham councillors driving the scheme and their brutal security company County Enforcement.
Here is a quick update on developments in the last four months. Sadly, earlier this week the developers succeeded in destroying the garden, cutting down up to 100 trees (read this account by Andy Worthington for more details). But the battle for Reginald House and the surrounding neighbourhood continues. The passion and commitment of the residents is very much alive.
This came across loud and clear in the meeting we helped run on Saturday, where around 50 people came together to think about "who's gentrifying Deptford?", and strategise about the struggle. Click here for a list of development schemes we are starting to compile with residents: over 5,000 new private flats are being crammed into one of London's most densely populated areas, to the profit of developers and global investors from New York to Hong Kong.
Even as people mourn the garden's destruction, we think it's worth noting some successes for the campaign along the way. There is much to learn and to build on for the struggles ahead.
County Enforcement loses contract
In November, a fence went up around the wildlife garden, after campaigners had been evicted from their occupation. It was guarded 24/7 by a small army of private security guards. These guards were employed by a contractor called County Enforcement, who are well known for their brutality and have a history of union-busting. After our profile of the company was spread, Lewisham councillor Paul Bell, cabinet member for housing, promised that the council would end its contract with the firm. He told local media:
"County Enforcement are going to go. They have been used for about twenty years I am told by council officers. […] Residents have pointed out to us that this is not a suitable organisation for workers' rights and for Labour in terms of local government."
Bell works as a national officer for the Unison trade union, and other comments made clear that he objected to County's boasts about their role in the miners' strike and Wapping printers' strike — rather than their recent assaults on Tidemill campaigners.
Finally, on 18 February, County appeared to be replaced by new security guards. The identity of the new contractors is not yet confirmed. The current guards do not wear any company uniforms, only plain black clothes with yellow high-vis vests. When asked, the guards tell people that they are directly employed by Lewisham Council.
In response to questions at recent council meetings, there is some confirmed information on what Lewisham are spending to keep their security army at Tidemill.
The cost of the eviction itself on 19 October was £105,188. By the Council meeting on 27 February, the cost of keeping security in place was a further £1.37 million.
This is obviously a massive waste of money. It could all have been saved if the council had listened to residents and worked together on the alternative community plan for the site, rather than trying to force people out of their own homes and community resources. An obvious question is: will the council spend similar sums on the other controversial demolitions and developments about to start in the area?
On 22 November, Lewisham started cutting the trees in the community garden. They employed a tree surgeon company called Artemis Trees to do this. But Artemis pulled out of the contract the next day after numerous people told their workers in person, and their managers on social media, about how people felt about the garden.
I've just spoken to Aaron, contracts manager from @ArtemisTrees and they have pulled out of the #Tidemill job, without pay, for ethical reasons. They weren't aware of the campaign or situation surrounding this. Please thank them for doing the right thing (unlike @LewishamCouncil) pic.twitter.com/V6omqX4atI

— Reginald Resident (@under_siege_SE8) 23 November 2018
New tree cutters: SDL Solutions
Tidemill campaigners also contacted other tree surgeon companies based in London and the South East, explaining what was happening on the site and asking them to follow Artemis' example. This could be a reason why Lewisham eventually brought in a company from Gloucestershire, who hacked most of the trees down with heavy machinery on 28 February.
SDL solutions specialises in clearing trees then pulping them for fuel. So a beloved community wildlife garden ends up as woodchips burning in "biofuel" incinerators.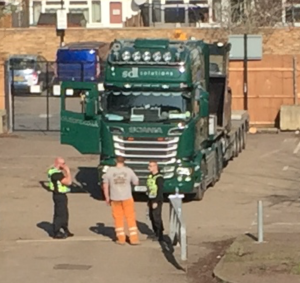 Picture: SDL Solutions truck with tree-cutting equipment photographed at the Tidemill site (Frankham Street). Thanks to @se8_dad.
The same day that Lewisham Council sent in SDL to cut the trees, as London sizzled with unprecedented winter high temperatures, its full council meeting voted to declare a "Climate Emergency". Biofuel plants infamously often cause as many CO2 emissions as the fossil fuel ones they replace.
Enhance your boiler performance with our premium, best of British wood chip! We are offering 1 cubic metre in a ton bag, for £120.00 including delivery. Order yours now! email: info@sdlsolutions.co.uk call 01386 840980. #fuel #biomass #boiler #winter #energy #RenewableEnergy pic.twitter.com/5ZomFn87Zu

— SDL Solutions (@sdl_solutions) 5 November 2018