Trading under siege: the dying export industry in the Gaza Strip
/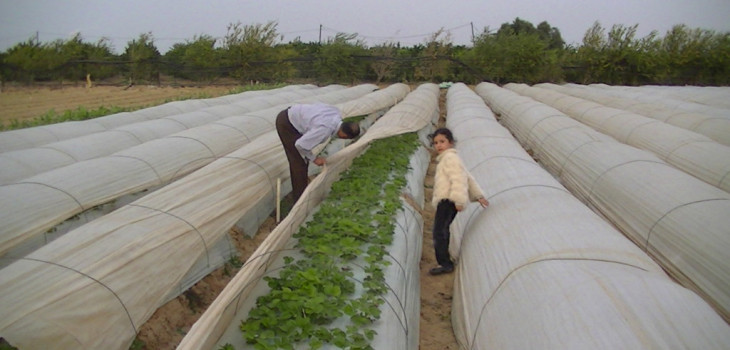 [responsivevoice_button]
Corporate Watch researchers visited the Gaza Strip during November and December 2013 and carried out interviews with farmers in Beit Hanoun, Al Zaytoun, Khuza'a, Al Maghazi and Rafah, as well as with representatives from Union of Agricultural Work Committees (UAWC), Palestine Crops and the Gaza Agricultural Co-operative in Beit Lahiya. This is the second of two articles highlighting what their experiences show: that Palestinians in Gaza face significant and diverse difficulties when it comes to farming their land and harvesting and exporting their produce under siege, and that Israel enforces what amounts to a de facto boycott of produce from the Gaza Strip. The first article, about farmers' experiences of working the land in Gaza, can be found here.
A dependent economy
"The Israeli occupation allows us to export a small quantity of produce, just to show the world that they are nice to the Palestinians, but they are using us. Everything we do is controlled by them"
Saad Ziada, Union of Agricultural Work Committees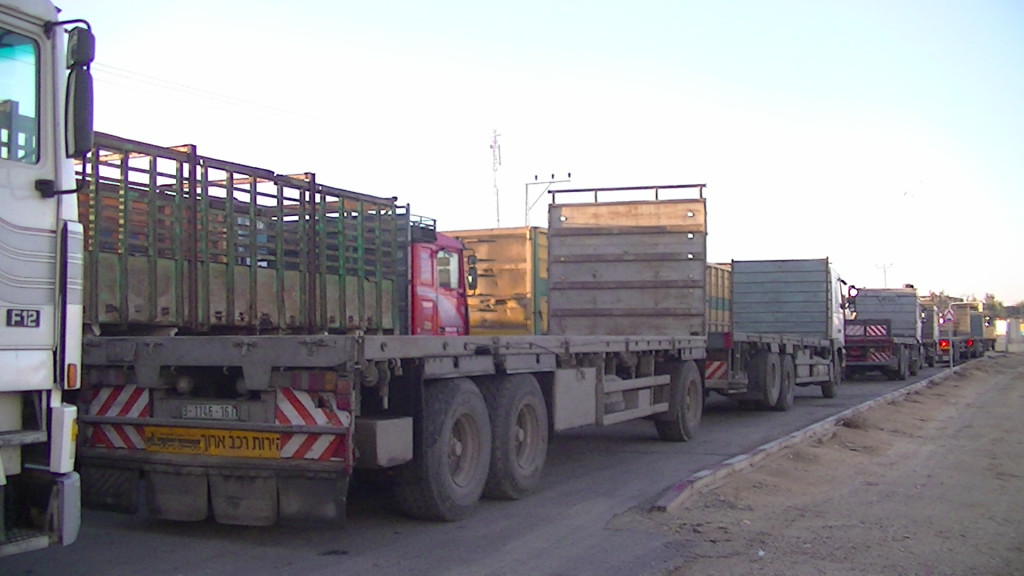 As a result of economic agreements made during the period of the 1993 Oslo Accords, the Palestinian economy as a whole has become totally dependent on Israel. The Paris Protocol, signed in 1994, is an agreement between Israel and the Palestinian Authority which outlines the economic relations between the two in the areas of customs, taxes, labour, agriculture, industry and tourism. In theory the protocol was meant to facilitate the free movement of goods, including agricultural produce, and give Palestinians access to international markets, but in practice it has worked as a basis for consolidating Israeli domination of the West Bank and the Gaza Strip. Whilst Israel benefits from tax free access to markets in the Occupied Territories, Palestinian exports are strictly controlled by Israel and can only be carried out through Israeli companies, hence benefiting the economy of the occupier.
When it comes to the Gaza Strip, the situation for Palestinians is even worse. Since the tightening of the siege in 2007, Israel has implemented a de facto economic boycott of Gaza, with no industrial goods and a minimal amount of agricultural exports being allowed through the Israeli controlled Karam Abu Salem (Kerem Shalom) goods crossing only. The Karni (or Al Montar) crossing, which was established as a main terminal in 1994 to facilitate the transfer of goods between the Gaza Strip and Israel, was closed permanently in 2011 as the siege intensified. Before the closure the crossing had been effectively non-operational since Hamas' takeover of the Strip in 2007, only running a skeleton service through a conveyor belt transporting gravel and animal feed. The Rafah crossing to Egypt is completely closed for exports from Gaza.
Since 2007 farmers in Gaza have been prohibited from selling their produce to Israel and the West Bank, traditionally their biggest markets.
The devastating decline in Gaza's export industry is recorded in OCHA's Crossing Activities Database which monitors all exports and imports into the Gaza Strip. So far during 2014, only 84 trucks full of export goods have been able to leave the Gaza strip, with no more than 268 trucks of exports leaving in any one year after 2007. These figures stand in sharp contrast to the improvements agreed upon before the Hamas takeover of the Strip. The 2005 Agreement of Movement and Access negotiated between Israel and the PA promised that 400 trucks of export goods a day would be allowed to leave the Gaza Strip. This agreement was abandoned after Hamas gained control of the Strip. In stark comparison, so far this year 33212 trucks of goods have entered Gaza, the vast majority carrying Israeli goods destined for the Gaza market.

Corporate Watch talked to Palestinian farmers, who were struggling to make a living, about the realities of trying to export their produce from Gaza, and their ambitions to be in control of their own economy.
Palestine Crops: 'From Palestine Land to Global Markets'
To get a clearer idea of how Gaza's limited export industry works, Corporate Watch met up with Mohammed Zwaid in Gaza City. Mohammed works as an export manager for Gaza's only export company, Palestine Crops. Operating both in the Gaza Strip and in the West Bank, Palestine Crops is a project funded by a Dutch government initiative. The company supports Gaza's farmers and finds them an avenue for exporting their produce, mainly strawberries, herbs and flowers, and works with numerous farming cooperatives throughout the occupied territories. In the Gaza Strip, Palestine Crops' producers include The Association of Etihad for Agricultural Farmers, the Beit Lahiya Agricultural Cooperative Association, Agricultural Cooperative for Producing and Exporting Vegetable and Flowers, the Beit Hanoun Agricultural Cooperative Association and the Al Amina Agricultural Cooperative. Using the slogan, 'From Palestine Land to Global Markets', the aim is to eventually run an independent Palestinian exporting business. At the moment, however, all Palestinian exports have to be exported through Israel by via Israeli companies.
"We have to go though another company to export the Palestine Crops produce", Mohammed told us "they normally take around 7-10% commission". "In the past farmers used to export via Coral [The Israeli state exporter Carmel Agrexco's brand name for Palestinian produce before they went into liquidation in 2011] but now most of our exports go through [the Israeli company] Arava and we also use the Flower Board of Israel for flowers and also strawberries". He said there were other companies, called Sole and MOR, exporting very limited quantities from the Gaza Strip. Some produce was exported to MOR through an intermediary West Bank owned company called Harvest. According to Who Profits  a new incarnation of Carmel Agrexco, now part of Bickel Flowers, is also exporting from Gaza again.
Mohammed said that Mehadrin, one of the biggest and quickest expanding Israeli agricultural export companies, is not interested in working with Palestine Crops' farmers.
Europe is the biggest market for Palestine Crops now that the more profitable markets in Israel and the West Bank are blocked off from Gaza's farmers and the restrictions imposed by Israel's siege have made Palestine Crops lose their marketing network with old markets such as the Gulf countries. In the last few years there has also been some small exports of herbs to the USA.
Building a brand
The employees at Palestine Crops have worked hard to build a distinct Palestinian brand which makes it clear that what the buyer gets is Palestinian produce. They are part of the Global GAP (good agricultural practices) scheme, meaning that their produce can be traced through the grower number, and the company has its own stickers that highlight that the produce is Palestinian grown. But they have one big problem –  Palestine lacks its own bar code and the produce gets exported with an Israeli one. Mohammed said that a lot of effort has gone in to trying to get a distinct bar code but without luck. "We have our own stickers", he said, but Arava has asked for them to be smaller and often Arava stickers are put on top of ours. Our produce is taken inside Israel by the Israeli company and then taken to a packing station where it is repackaged to new specifications".
Mohammed told us that the prices that the farmers in Gaza get for their produce have gone down since the economic downturn, and exports to Europe also face other cost challenges. "We used to get around 15 NIS for a kilo of strawberries", Mohammed said, " but now it is 10-12NIS". Another thing adding to the cost for the producers is that the EU market is a lot pickier about things like the colour and sizes of strawberries, leading to more wastage than used to occur with exports to the Middle Eastern market.
Because of pressure within Europe, all EU exports now have to come with a certificate of origin, which is good news for progress with identifying Palestinian produce, but Mohammed said that some EU countries demand that the actual paperwork is issued in the West Bank and not in Gaza, so when they want to obtain the EUR1 forms needed to authorise exports they need to contact the Ministry of Finance in Ramallah, who then gives the paperwork either to them or straight to the company that they are exporting through. This restrictive stipulation is part of a strategy to undermine the Hamas government by insisting on only dealing with the PA.

Normally the Israeli companies contact Palestine Crops whenever they want to buy something and give them an indicative price for the produce for the following week, but sometimes the farmers get lower prices than agreed when the produce reaches the border, and large quantities of produce is frequently rejected.
No choices
There used to be a secondary, and more profitable, avenue for exports from Gaza through the tunnels located under the Philadelphi corridor to Egypt, but this ground to a halt after almost all the tunnels were destroyed in a crack down by the Egyptian Government before the ousting of the Muslim Brotherhood in early July 2013. In the six month season preceding the clampdown, Palestine Crops exported over 200 tonnes of cherry tomatoes, and many tonnes of sweet peppers though the tunnels. These exports were approved by the Ministry of Agriculture in Gaza. For many farmers these exports provided a lifeline and growers adapted their crops for the Egyptian market. "There used to be 100 dunams of sweet peppers in the Gaza Strip and now there are 600-700", Mohammed told us. This is more than the local market can absorb and with farmers now forced to try to sell their produce locally, prices have dropped drastically. The tunnel closures have further affected farmers who can no longer access essential fertilisers that they used to get from Egypt. Whilst they are able to get approved seeds from the Israeli market, some fertilisers are prohibited from entering Gaza by Israel and the ones that can enter come at inflated prices that many farmers can not afford.
 "We are not in a strong position", Mohammed said, "and our priority is to make it profitable for the farmers".
The strawberries of Beit Lahiya
Beit Lahiya, in the northern Gaza Strip, is an area famous for its strawberries and home to proud strawberry co-operatives, but according to Amjad, one of the growers, strawberry farming in the area is dying as a result of the siege. The western side of the town has already had to stop planting strawberries because of salt water contamination of the ground water, something which is expected to affect other parts of the area too within a decade. Despite the growing of cash crops being encouraged by Israel, exports are limited, highly unpredictable and getting worse. "In the past we used to export for maybe four months a year", Amjad told us, "but last year we were only allowed around one month and very limited quantities. It was the worst year for strawberry farmers. In 2012 our farm planted seven dunams, but this year we have only planted one". He said that everything is getting too expensive with no guaranteed profit.
Amjad's experience is backed up by Jamal [name changed at the interviewee's request], from the Gaza Agricultural co-operative in Beit Lahiya. The co-operative works with 45% of Beit Lahiya's strawberry farmers and, since Agrexco's liquidation, exports its goods through Arava and Flower Board of Israel via Palestine Crops. The cooperative has experienced problems since the tightening of the siege in 2007. "After the siege everything has become more expensive," Jamal said. "There were 2500 dunams of strawberries in Gaza in 2005 and only 770 in 2012-13. Strawberry farmers are giving up."
The cost of exports
Jamal told us of the increasing obstacles faced by the members of the co-operative when going through the export process, with less opportunities and higher costs. Palestinian farmers have to pay for Israeli manufactured cartons and containers before the export process even begins, and recently the cost of transporting the produce to the Karam Abu Salem goods crossing has rocketed because of tightening Israeli restrictions and the Gaza fuel crisis. "In the past pallets of strawberries used to be allowed to be 180 centimetres high and held 100 cartons," Jamal told us, "but now pallets are only allowed to be one metre high and can only be 60 cartons, and this has increased transport costs, it is too expensive." This means that on the Palestinian side of the border each vehicle can transport 15 pallets of goods. On the Israeli side of the crossing, they are allowed to be piled higher and each vehicle can transport 26 pallets, making transport less costly for the Israeli export company. Another reason for the increased transport costs is the change and limitation of goods terminals. The now closed Karni crossing was located close to Gaza City and much closer to Ashdod port and Tel Aviv than the currently used Karam Abu Salem crossing, meaning there was easier access in the past for Gaza's exporters.
Once the produce reaches the crossing, the process of handing the goods over to the Israeli side also disadvantages Palestinian farmers. Jamal said that they can never be sure how much they will get paid. They normally get a list of prices from the Israeli exporter every week during the season with the prices they will pay for the following week, but if any circumstances change in the middle of the week they get revised, and produce frequently gets rejected on the border. Jamal said that they once sent ten tonnes of strawberries for export but got told that the quality was not good enough and only got paid for 6% of what they had delivered. Part of the problem is the security procedures, once the drivers arrive at the terminal, they have to get all the produce out for checks before it gets handed over to the Israeli side. This can often mean that the produce gets spoiled by being out for long periods in hot temperatures. "We need the crossing to be a lot quicker", said Jamal, "and we also want equipment there to protect the produce, like refrigeration". This has become even more important now when almost all produce is destined for Europe, which has high quality controls and demands that produce withstand the extra transport time. As an exporter representing farmers who are working under almost impossible circumstances, Jamal's priority is to find avenues for increased business. He wants to regain access to Israeli and West Bank markets and to make Gaza's trade profitable but is currently prevented from doing so. Despite Israel's increasingly desperate anti boycott rhetoric, it is clear that it is Gaza's farmers who are controlled and denied their right to make a living by a siege that amounts to something much harsher than purely a boycott of the Gaza Strip.
Looking to the future
As we have seen, Gaza's export industry, minimal as it is, is currently totally dependent on Israel. Any farmer who wants a chance to export their produce has to adjust the crops that they plant to suit the Israeli export companies, often being left with a surplus of particular crops when exports are arbitrarily denied. At the same time 80% of people in Gaza are dependent on food aid, and Israel exports a huge amount of their produce into the Gaza Strip. As the Boycott, Divestment and Sanctions Movement's briefing Farming Injustice points out, much of what is brought into the Gaza market is produce deemed unsuitable for international export, and dumping it on Palestinians in the Strip both profits the Israeli export companies and undermines the local Palestinian market. Palestinians we talked to in Gaza were clear about what they need: they want the freedom to export their produce on their own terms and to all markets without having to go through Israeli companies and they want food sovereignty, or the right to define their own food, agriculture and land. None of this can be achieved without an end to Israel's brutal siege of Gaza and occupation of the West Bank. When calling for a boycott of Israel, activists must equally demand freedom of movement for both people and goods, including the permanent opening of the Rafah crossing to Egypt.
For a further report on Israel's control of Palestinian agriculture see Who Profits' briefing Made in Israel.