Video reveals pest infestation at deportation site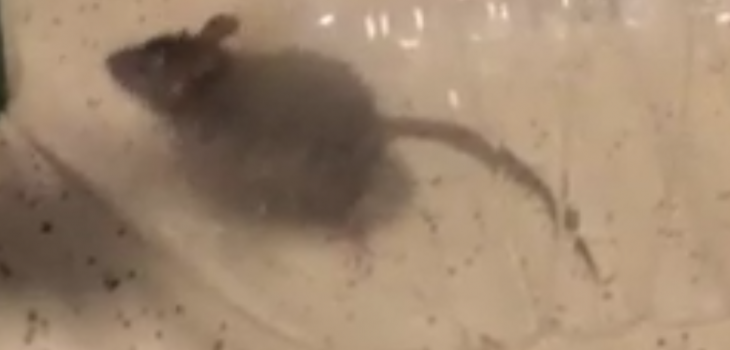 [responsivevoice_button]
Secret filming has found asylum-seekers are being held in squalid conditions at Harmondsworth, Britain's biggest detention centre located next to Heathrow Airport.
The footage, obtained by Corporate Watch and Standoff Films, shows one detainee's arm covered in bed bug bites and a mouse running around his cell.
Detainees can be heard on camera complaining about an infestation, and saying the authorities have not done anything about it. "We've still got an infestation of mice, bed bugs in our cells, among other things", one of the men explains.
The detainees hope this rare footage will alert health inspectors to the squalor inside Harmondsworth. Cameras are banned from detention centres, where asylum-seekers are locked up while the Home Office decides their immigration case. No one detained at Harmondsworth is serving a criminal sentence.
Last month, Corporate Watch revealed contractors were cutting corners at Harmondsworth by paying detainees as little as £1 per hour to clean the centre. Detainees worked 16,737 hours in May 2014. They were paid just £17,218 that month. Paying detainees the minimum wage would have cost around £105,610. Over a year, the potential saving at Harmondsworth alone would amount to one million pounds.
Mitie, the FTSE 250 outsourcing company that has recently taken charge at Harmondsworth, also runs a specialist pest control firm. Mitie did not respond to our request for comment on how it was dealing with this infestation. The company's website says, "although mice can often look innocent, the disruption they can cause is often severe. As one of the UK's leading providers of mouse control solutions however, we're best placed to help locate, remove and prevent mouse problems of all scales."
However, another detainee, from a separate wing of Harmondsworth, confirmed to us that the pest infestation was rampant, and described chaotic scenes at the centre just days after Mitie got the keys: "They've got a new company that just came in, the system is down, everything is not working, the prices in the shop went up, and we're asking, 'Why are the prices going up, why can't we print out our [legal] papers?' – 'Oh, the system is down, it's a new company, [Mitie] Care [&] Custody is the new company that came in, everything is going to change.' I said, 'Fine, but it's been now 4 days and nothing has changed'."
The detainee, whose identity we are protecting, said the infestation could be caused by a lack of new bedding at Harmondsworth: "when you're in a place where you have thousands of people that come and sleep, come and go and sleep and its the same bedding, its the same duvets, its the same pillow – it's unhygienic, it's unhygienic…some of the mattresses don't have plastic covers on them, so that's easy for the bed bugs to get in them."
When asked if he had also seen mice inside the centre, the man said that "Yeah I've seen mice here … the officers were the ones that pointed it out to me! They said like, 'Look there's mice running there'. And I said to the officers, 'Why are there mice? Why are they not cleaning the place up?' And he just pulled up his shoulder like saying 'well I don't know', he doesn't know why they have mice here."