What it means to survive a drone attack
/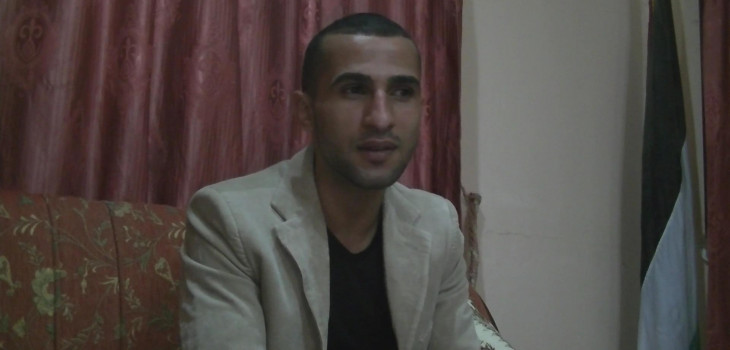 [responsivevoice_button]
"On 6 November 2006, I was waiting for a bus to go from the north of Gaza city to school. A kindergarten bus was driving past. A rocket fell down and exploded. Five people died including a six year old child."
Mohammed Azzam, was 16 at the time of the attack. According to the Al Mezan Centre for Human Rights the attack was by an Israeli drone.[1]
We met Mohammed Azzam at his family's home in Gaza City in November 2013. As we sat down to talk we were disturbed by the sound of an Israeli F-16 overhead. Mohammed has grown up in a besieged city under constant Israeli attack. Just a few days before we met, Gaza had been attacked by Israeli F-16 strikes and we had been kept awake by the sound of drones. For the Palestinian survivors of Israeli drone attacks their trauma cannot be dealt with and put behind them. Instead it is an ongoing daily experience, full of triggers that can reopen old wounds.
Click here to watch a video of Mohammed speaking about his experience. (For English subtitles please click the subtitles icon in the right hand corner of the you-tube panel and turn subtitles on).
Mohammed is a slight, shy young man. His quiet and thoughtful demeanour contrasts with that of his athletic, self assured brothers. Mohammed tells us that before the attack he was a keen football player, "in love with football". His health has not improved enough for him to play since the attack. He tells us: "Sometimes I hear my friends say lets go to play football, this affects me as I can't join them."
Mohammed was seriously injured after being hit by shrapnel in the attack. He tells us: "Two minutes after the rocket hit I lost consciousness. I was in a coma for five days. After that I received treatment in Gaza for nine days. I had three operations on my stomach at Al Shifa hospital."
Mohammed was then given permission to travel to Israel to have an operation at Ikhilov hospital: "The Israeli military said they were 'sorry' and that the attack had been a mistake. I was given a permit to cross into Israel for treatment through the Erez [Beit Hanoun] crossing. I went by ambulance through Erez. I was taken out of the ambulance for 30 minutes, left outside on a stretcher. I had had an operation the day before. It was cold, I had had anaesthetic, it was hard.
"The first three operations had not been successful, there was shrapnel in my stomach and close to my backbone. Some of the people we met at the hospital in Israel were respectful but some hated Palestinians.
"I stayed 2 months at the hospital as they did not want to operate because I was too weak after the three previous operations. I was on a drip for 50 days, unable to eat and I lost 10 kilos in weight. I was told that I would not walk again but after a lot of hard work I was able to recover enough to walk."
Even in cases like this, where the Israeli military is directly responsible for attacks on civilians, the Israeli hospital bill is footed by the Palestinian government, while the family of the patient have to pay other associated expenses. According to Mohammed: "the hospital costs were funded 100% by the PA – my father paid for transportation. It cost 4,000 Shekels in transport costs."
The victims of Israeli attacks encounter impossible hurdles when trying to get justice in Israeli court. Mohammed tells us: "We began a case against the Israeli government with help from the Palestinian Centre for Human Rights (PCHR) but the Israeli court demanded thousands of Shekels to bring the case, now the case has been closed."
There is a severe shortage of medicines in the Gaza Strip. This is due to the need to coordinate with the Israeli authorities when importing medicine into Gaza, and by the Israeli bans on the import of certain products. During our visit in December 2013 a spokesperson for the Gaza Ministry of Health told Corporate Watch: "141 drugs are not found here [in Gaza]. These are from a list of 470 sorts of drugs that we should always have – they are necessary drugs". A representative of the Union of Health Work Committees in Gaza told us: "At UHWC 300 items are at zero stock. We have a shortage of drugs, especially for chronic illness. "
What this shortage of medicine means for people like Mohammed is that the medicine they need to relieve their pain and alleviate chronic conditions often isn't available. According to Mohammed: "I didn't have access to the right medicines because of the Israeli siege."
But the effects of Mohammed's injury were not simply physical. It affected every aspect of his life and had deep psychological impacts.
Mohammed tells us: "After the attack I was a year delayed in my education. My nerves were bad and I couldn't concentrate. When you live with pain in your body life is hard and it is difficult to study. I wasn't able to go to classes independently.
"If I didn't have to face these circumstance I may have had more opportunities. In 2008 when I wanted to study in Egypt there were problems between the Palestinian Authority, Hamas and Israel. Because of this the borders were closed and I wasn't able to continue my studies.
"It's hard for the injured in social life. They are nervous and it's hard for us to be around healthy people. After my injury I just wanted to be the way I used to be. This made me angry, gave me a negative energy and I kicked-out at my friends and family. Sometimes if I was asked a question about what happened it brought back bad memories of the attack that would make me angry and nervous. But now I have developed and I'm able to talk about it.
"Life did not stop when I was injured. The experience encouraged me to be more effective and work for life to be more beautiful. I have become interested in helping disabled youth. I have worked for a project run by Medical Aid for Palestinians helping disabled people demand their rights in the north of Gaza for the last three years. But it is coming to an end in February as the funding is being cut.
The companies behind Israel's drone strikes
The battlefields of Israel's militarism and occupation have proved effective testing grounds for new types of weaponry. Israel's constant state of warfare has ensured a reliable marketplace for Israeli arms manufacturers. According to Drone Wars UK, surveillance drones were first used in Egypt in the lead up to the Yom Kippur War. The first recorded use of an Israeli drone to help piloted warplanes bomb targets (target acquisition) was in 1982 in the run up to the Israeli invasion and occupation of Lebanon. According to Al Mezan, the first recorded use of an armed drone by Israel was in 2004. The experience gleaned during years of military repression has made Israel the largest exporter of drone technology in the world. Israeli arms companies have sold drones to over 50 countries.
Israel's market leaders in drone technology are Elbit, a private Israeli company based in Haifa. Elbit have partnered with French company Thales to manufacture the Watchkeeper drone for the UK military. A list of the Watchkeeper programme's subcontractors can be found here.
Take Action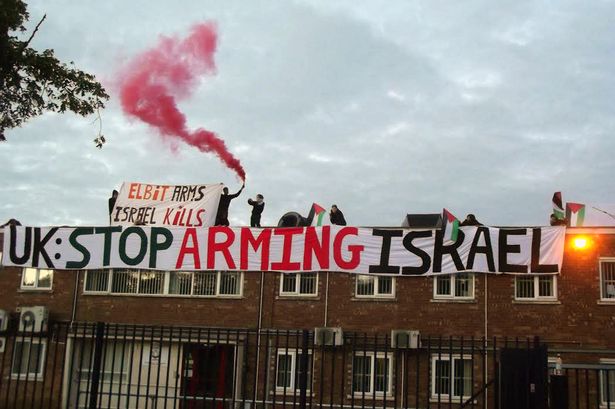 Elbit's UK locations can be viewed here.
Thales' UK locations can be viewed here.
A coalition of campaigners have been organising protests outside Elbit's manufacturing facility in Shenstone, Staffordshire. In July this year, during the Israeli attack on Gaza, a group of activists occupied Elbit for two days, forcing the factory to shut down its business until police removed them. A demonstration is planned at the factory in Shenstone on Friday 17th October.
Testing of the Watchkeeper
The Watchkeeper is being tested at the Parc Aberporth facility in Wales while Military testing is being carried out in Wiltshire at Boscombe Down. Campaigners in Wales have been protesting for years against the flying of drones at Parc Aberporth. There is a need for campaigners in Wiltshire to begin organising effective resistance against the military testing of the Watchkeeper.
Two-way arms embargo
In 2011 a group of grassroots Palestinian groups called for a two-way arms embargo. This means that the call demands an embargo on arms sales to Israel and on purchases of weapons from Israeli companies until Israel abides by international humanitarian law. The Palestinian Boycott National Committee wrote at the time: "A comprehensive military embargo on Israel is long overdue. It would form a crucial step towards ending Israel's unlawful and criminal use of force against the Palestinian people and other peoples and states in the region and would constitute an effective, non-violent measure to pressure Israel to comply with its obligations under international law."
The campaign recognises that buying arms from Israeli companies fuels Israeli militarism and strengthens the occupation and siege. In the UK there is a call for campaigners to pressure Members of Parliament to support a two-way embargo: end all contracts with Elbit Systems and Elbit subsidiaries; end all arms trade with Israel; and suspend the EU-Israel Association Agreement and all EU research funding for Israel's arms companies.
In the context of Israel's latest attacks on Gaza an open letter was written from a group of Nobel Peace Laureates, along with the likes of Noam Chomsky, Slavoj Zizek and Ilan Pappe, urging "the UN and governments across the world to take immediate steps to implement a comprehensive and legally binding military embargo on Israel, similar to that imposed on South Africa during apartheid". To read more about the campaign for a military embargo see here.
Target the shareholders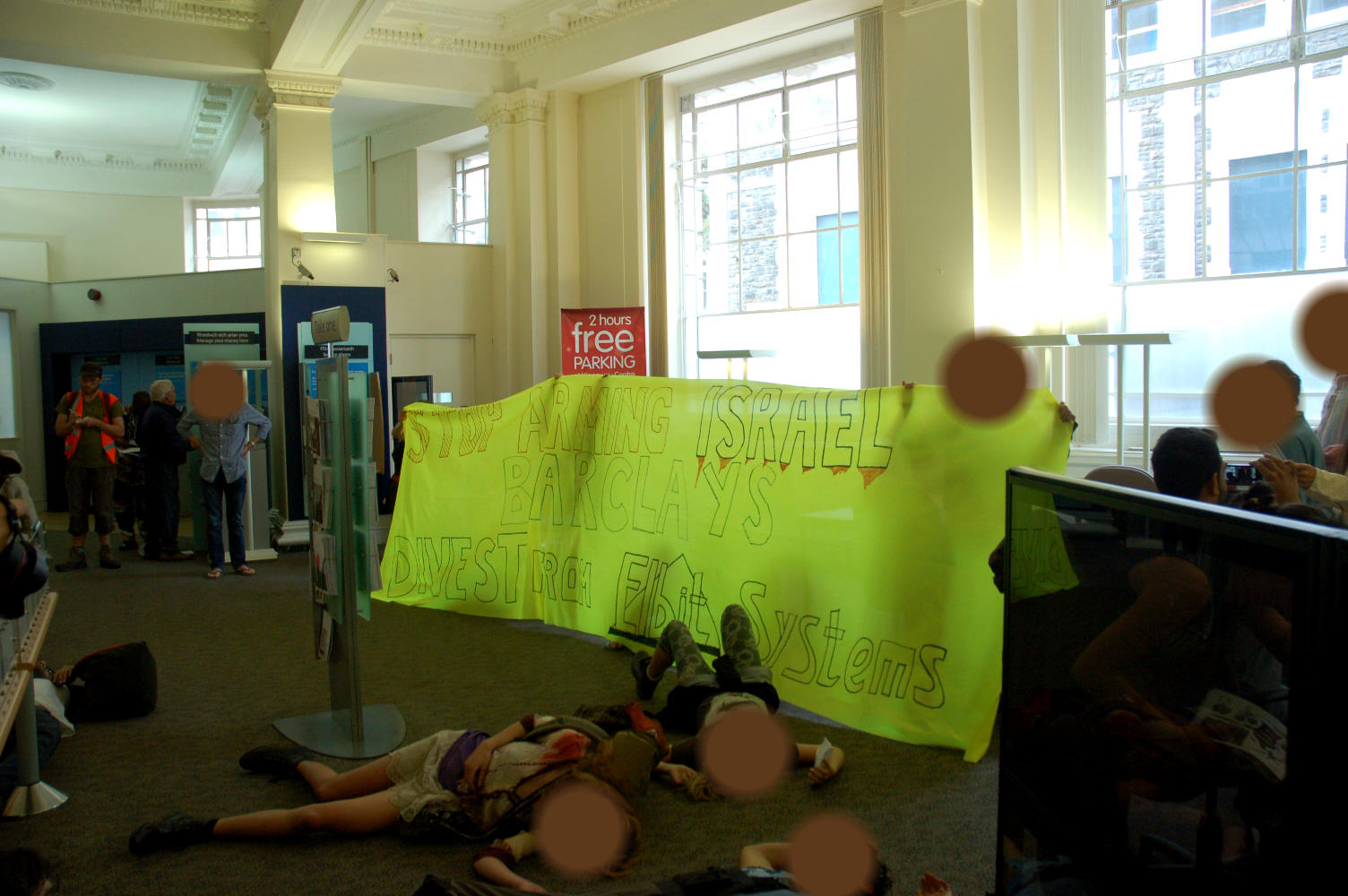 The Palestinian civil society call for Boycott, Divestment and Sanctions demands action to persuade the investors in companies complicit in Israeli militarism to divest their shares. Barclays PLC is the named owner of over 50, 000 shares in Elbit Systems.
During the most recent Israeli attack on Gaza, in which 2,168 Palestinians were killed, campaigners held demonstrations and occupations of Barclays all over the UK, including in London, Brighton, Manchester and Wrexham. An Avaaz petition calling on Barclays to divest gained nearly 2 million signatures. Russell Brand even weighed in on the debate. On 6 September 2014 campaigners in Wales held an occupation of a Barclays branch in Newport in solidarity with Gaza. Several people glued themselves to furniture inside the bank.
In the face of these growing protests against its shares in Elbit, Barclays has claimed that its shares are held "on behalf of clients and to hedge exposure against customer facing transactions". This explanation doesn't get Barclays off the hook. In agreeing to purchase the shares in Elbit on the behalf of their customers the bank is ignoring the war crimes being carried out against people like Mohammed using Elbit's equipment. Barclays have the power to refuse to purchase shares for their clients in unethical companies like Elbit. There is a need for further concerted action to persuade Barclays to change their position and to have nothing to do with shares in Elbit.
'Humanity is the thing that connects us'
We ask Mohammed what he thinks of the companies that manufacture the weapons that were used to injure him. He replies: "These technologies must be used for the good of the world. Now all the weapons are in the wrong hands. They should be used to help people. Humanity is the thing that connects us. I hope there will be no more war and that peace will spread all over the world."