'Wreckers of the Earth': 300 London-based companies destroying the planet
/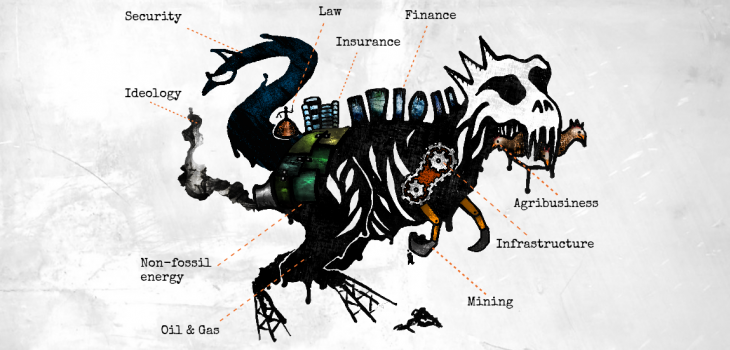 2

min read
The Wreckers Portal 2021

"The earth is not dying, it is being killed, and those who are killing it have names and addresses." Utah Phillips
Capitalism is burning up our planet, devastating ecosystems and communities in its ceaseless hunger for profit. Everything is for sale, and the one great goal is growth: producing and consuming ever more stuff, even as it kills us. This engine of mass destruction is driven by burning forests: the long-dead forests of fossil fuels, and the living forests of today. Though we all play our parts in the consumer system, some people play much bigger parts than others. The people killing the earth are those directing the machine – and crushing any resistance to it.
Our Wreckers of the Earth project has two aims:
to identify and map 300 of the main planet-killing companies, banks, investment funds and institutions, with their bases in London;
and to help show how they work together as a coordinated system of power and profit.
London: a global hub of ecocidal capitalism
London is home to fossil fuel giants and to many of the worst mining polluters. It is the world's second-largest financial centre (after New York). It is the key financial marketplace for Europe, the Middle East and Africa, and for trading oil, metals, minerals and other "commodities" sucked out of the earth. Lax regulation and tight security make London a money-laundering haven for the world's tyrants, oligarchs, and billionaires. The legacy of the British empire still lives in the infrastructure and services London offers: insurance markets, law firms, arms dealers, PR agencies, down to prestige shopping and investment property.

NB: all the information here was updated and checked in September 2021.

How can I access the information?


1. Expand, explore & share the dino-monster: each part of its body will take you to a sector, and onto the directory with their addresses.

Expand the window and click on the titles for links to the companies and map

2. Visit our interactive online map of London, showing the locations of these companies by sector. Click the icons to the side to browse the data.


3. Share & print our visual map, laid out for printing. Hi-res png here, and pdf here.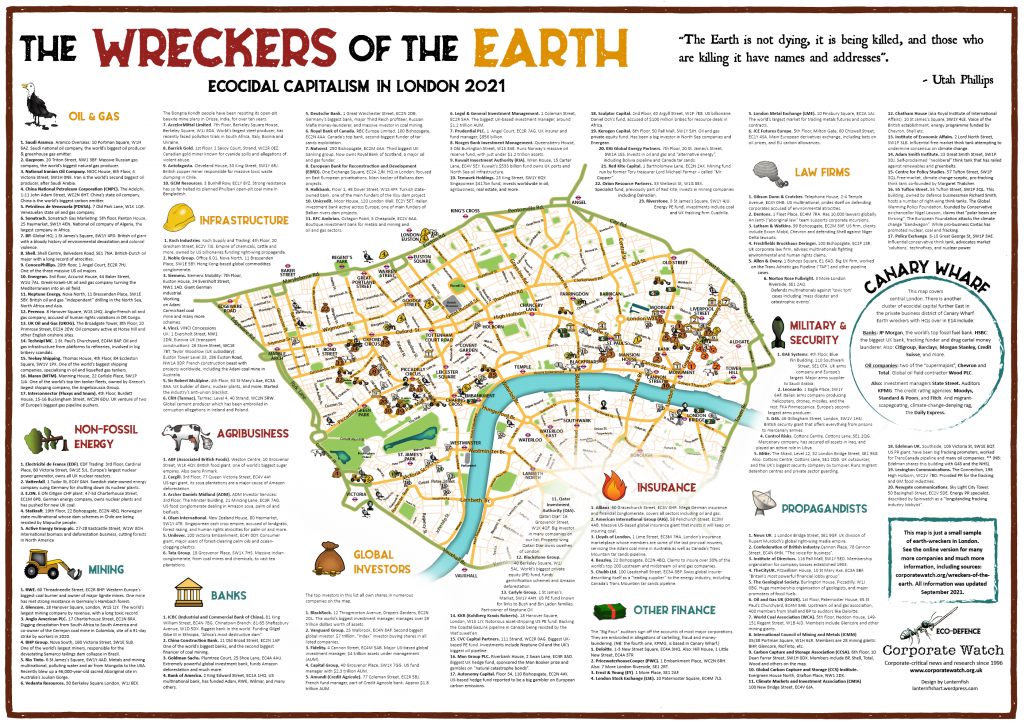 4. See our directory, which provides more details on the companies and their ecocidal atrocities. Click on the image to download a pdf, or read it online here (html)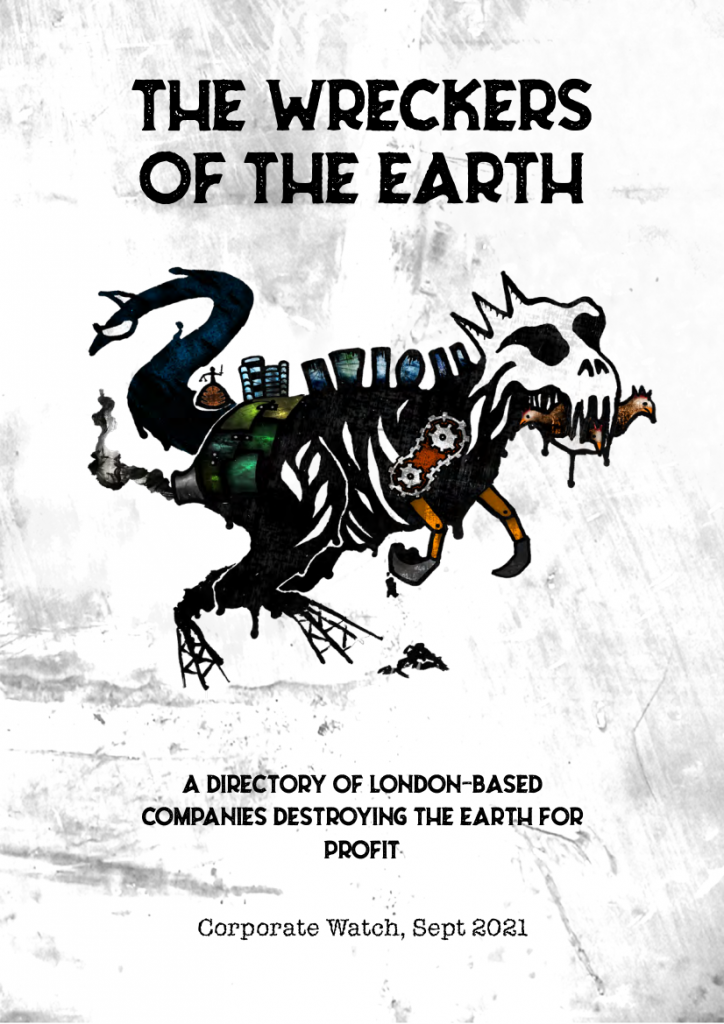 Upcoming publications
In this project we set out not only to map these companies' locations, but to dig further into their destructive activities, and chart some of the relationships between them. Over the coming weeks, we will publish further analysis of these industries, companies and their relationships, an interactive tree diagram, as well as reports on major ecological struggles against a number of these companies.