Yarl's Wood women: 'We are not street dogs'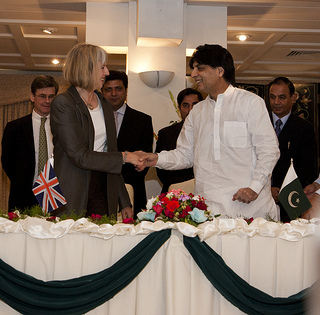 [responsivevoice_button]
Over 30 women are on hunger strike at the notorious Yarl's Wood Immigration Removal Centre in Bedfordshire, with half of them facing deportation to Pakistan tomorrow on a specially chartered flight. Corporate Watch takes a look at the deals between London and Islamabad on security, trade and aid, arguing that asylum-seekers are being treated as bargaining chips in these negotiations.
The women on hunger strike, many of whom are seeking asylum from gender-based persecution, are detained at Yarl's Wood – itself the scene of an ongoing investigation into sexual abuse by Serco guards. A statement issued by some of the hunger strikers challenges the legality of "mass deportations", noting that the women "have not had access to legal aid", and that there is a "huge waiting list" for lawyers, "due to [a] mass round up" of Pakistani asylum-seekers in preparation for a chartered deportation flight to Pakistan tomorrow, 1 October. Corporate Watch has already conducted extensive legal research into 'charter flights', which corroborates many of these women's claims.
The women's defiant resistance must be particularly sensitive for the Home Office, because the coalition government had so far got away largely unchallenged with their aggressive increase in deportations to Pakistan which began in November 2011 – it is only now that people's pain is being heard (read Amina's story, for example). Pakistani asylum-seekers have become the number one target for the UK Border Agency's (UKBA) secretive charter flights. Since February 2012, the UKBA has hired monthly night-time flights to Pakistan, removing between 50 and 85 people per private plane. It is standard practice for two or three times that number of private security guards to escort the deportees.
This article examines the collusion between the British and Pakistani politicians, who agreed these deportations whilst bargaining over trade, aid and security.
"Unbreakable partnership"
An ominous precursor to this deportation programme can be found in US diplomatic cables, leaked via WikiLeaks. Less than six months before New Labour lost the 2010 general election, the Conservatives' then Shadow Defence Minister Liam Fox met the US Ambassador to Britain. The pair discussed foreign policy towards the Indian sub-continent: "Turning to India, Fox criticised the Labour government for policies which reinforce the Indian government's long-held view that HMG's [Her Majesty's Government's] foreign relations on the subcontinent are 'skewed to Pakistan.' Fox predicted this would not be a factor under a Conservative government, since the Conservatives are 'less dependent' than the Labour Party on votes from the British-Pakistani community." Clearly then, deporting members of that community would not pose a big problem electorally.
Once in office, Home Secretary Theresa May travelled to Pakistan on 24 October 2010. She met Pakistan's President Zardari and Prime Minister Gillani to discuss "a wide range of issues of mutual concern". These diplomatic discussions continued with then immigration minister Damian Green and cabinet minister Baroness Sayeeda Warsi visiting Pakistan between 19 and 23 February 2011. They met with Pakistan's Interior Minister Rehman Malik, who "stated his support for the return of illegal migrants by the UK."[1]
Prime Minister David Cameron made his first official visit to Pakistan, flanked by Joint Intelligence Committee chiefs, on 5 April 2011 to launch an 'Enhanced Strategic Dialogue' involving annual meetings between the country's leaders and bi-annual talks between foreign ministers. Cameron announced £650 million in "education aid" for Pakistan and set "a target of increasing bilateral trade in goods and services to £2.5 billion a year by 2015."[2]
It was against this shift in diplomatic relations that the UK's first deportation charter flight to Pakistan took place on 24 November 2011. The flight returned 23 men and two women. Theresa May arrived in Pakistan on the same day and held a press conference with the Pakistani interior minister Rehman Malik, in which she stressed that bilateral ties were "stronger than ever".
The Tory's attempt to close the door on migration from Pakistan has coincided with a push for more British investment in Pakistan's economy, which the Foreign and Commonwealth Office called an "unbreakable partnership". A press release from February 2012 said that the "UK Trade Minister Lord Green's recent visit had highlighted the opportunities in retail, energy and mining sectors".
Only last week, Home Secretary Theresa May visited Pakistan again to "advocate further co-operation between the UK and Pakistan in our efforts to tackle the shared threats posed by terrorism, narcotics trafficking and illegal migration" in her meeting with the new Interior Minister Chaudhry Nisar. According to the Dawn newspaper, Theresa May "welcomed the commitment that Interior Minister Nisar and the government of Pakistan have shown to adopting a zero tolerance approach to illegal migration". It would seem that Pakistan's access to British aid and investment is partly conditional on accepting deportations from the UK, as well as co-operation on counter-terrorism initiatives.
To follow UK diplomacy in Pakistan, keep an eye on www.flickr.com/photos/ukinpakistan/sets/