Barnardo's: We believe in (locking up) children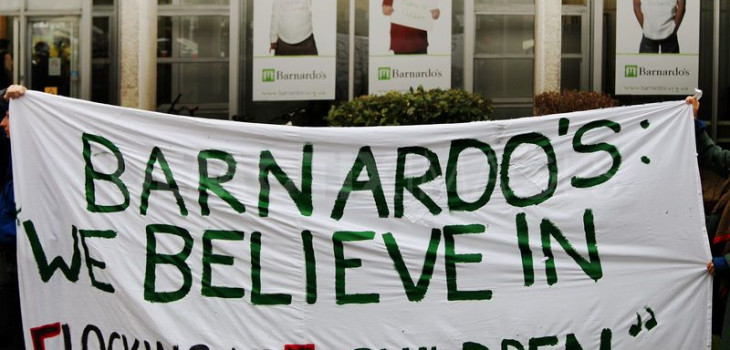 [responsivevoice_button]
Britain's largest children charity has become the latest target for anti-detention and anti-deportation campaigners, who argue that Barnardo's involvement in a new 'pre-departure accommodation' facility is legitimising what is, in effect, the government's continued use of detention for children. Following a number of protests, another demonstration has been called by No Borders in Haywards Heath in West Sussex on 30th July (see below for details).
In May 2010, the new coalition government 'committed' to ending child detention for immigration purposes as part of a "new, compassionate approach to family removals." However, while families with children under threat of deportation will no longer be held in normal immigration detention centres, they will instead be placed in new secure facilities, euphemistically named 'open accommodation' or 'pre-departure accommodation'.
One of these new 'family detention centres', as campaigners prefer to call them, will be opened in late summer in Pease Pottage, near Crawley in West Sussex. The converted school, with a 2.5m perimeter fence, will be run on behalf of the UK Border Agency (UKBA) by the notorious security giant G4S, while welfare and social care services will be provided by the children's charity Barnardo's. (For more on this and other planned family detention centres, see this Corporate Watch article.)
Helping make detention 'acceptable'
In a statement announcing its decision to provide welfare services at the new centre in March, Barnardo's said it "accepts that, as a last resort and after consideration by an independent panel, children and families may need to be kept in secure pre-departure accommodation for a very short period of time," justifying its involvement with the skewed logic that families and children held at the centre will be "at their most vulnerable and [will] desperately need our support."
The charity's newly appointed chief executive Anne Marie Carrie added that, "All this adds up to a system which has ambitions to be fundamentally different – which seeks to safeguard children and treat families and children with compassion." This presumably explains why agreeing to Barnardo's involvement in the project was apparently one of Ms Carrie's first decisions as chief executive. It is also a similar line to that used by the government to justify its new detention plans (see here, for example). Ms Carrie's previous working experience has been in local and national government posts (see here).
Speaking at an event in London earlier this month she said, "Barnardo's decision to provide welfare and social care services to asylum seeking families at the new pre-departure accommodation goes back to our core purpose: supporting the most vulnerable children in the UK." Setting out the charity's "principles guiding its provision" at the centre, she added that she was "absolutely clear that if policy and practice fall short of safeguarding the welfare, dignity and respect of families, then Barnardo's will raise concerns, will speak out and ultimately, if we have to, we will withdraw our services."
She then went on to outline the charity's "red lines" for involvement in the centre, in what appears to be an attempt to reassure an increasing number of critics. These include withdrawing services if, after a year, more than 10 percent of the families deported are returned through the pre-departure accommodation; if any family has stayed at the centre more than once or for longer than the one week maximum; if Tinsley House detention centre is used as an overflow for families when the Pease Pottage centre is full; or if the level of force used with a family on route to or from the centre is disproportionate to the family's circumstances and if any concerns Barnardo's may have about this, or about the centre's staff's behaviour towards families and children, go unaddressed.
But campaigners say these 'red lines' are not satisfactory. They point out that the government isn't planning to deport more than 10 percent of families through this new centre in any case, so they feel that is simply pulling the wool over their eyes. And if Tinsley House isn't used as an overflow centre they ask, does this mean it is okay to use police stations or short-terms holding facilities, or would Barnardo's prefer their colleagues in the UKBA to simply deport people straight away after snatching them from their homes? Further doubts are raised about what exactly 'proportionate' force is? Was the force used by G4S against Jimmy Mubenga whilst forcibly deporting him, which led to his death proportionate? In the words of one campaigner, all Barnado's is doing is "making this horrible place slightly more acceptable."
Yet, Barnado's is already increasing its capacity so it is ready for its new responsibilities. According to job adverts seen by Corporate Watch, the charity has recruited two project workers and two social workers to work at the centre, on salaries ranging from £22,000 to £29,000 per annum, plus a project administrator on a salary ranging from £17,000 to £19,000. Their roles will include counselling, organising one-to-one and group sessions, providing practical assistance, such as contacting distressed relatives. To show just how compassionate the new approach is, they will also organise play activities for the children.
Protests continue
In response, the campaign against Barnardo's is growing. Over the last three months, campaigners have leafleted staff at Barnardo's headquarters in Barkingside, Essex, and customers at Barnardo's shops, informing them about the organisation's involvement with the detention and deportation machine and urging the customers to boycott the shops until the charity withdraws from the project. Barnardo's also has shops in Chingford, South Woodford, Wanstead, Golders Green, North Finchley, Whetstone, Chiswick, East Sheen, Brixton and Eltham (see here).
On 6th April, activists from groups including No Borders London, All African Women's Group and SOAS Detainee Support walked into the Museum of Childhood in east London during a Barnardo's fundraiser to ask the charity and its guests "how charitable is it to collude with the UKBA in locking up children?" (You can find a video of the protest here).
As a next step, the newly formed No Borders Croydon has called for a demonstration in Haywards Heath on 30th July to protest against the new family detention centre in nearby Pease Pottage. Haywards Heath is the home of Mid Sussex Council, which granted planning permission for the former Crawley Forest School to be converted into a 'secure pre-departure accommodation'.