Mitie wins deportation 'escorting' contract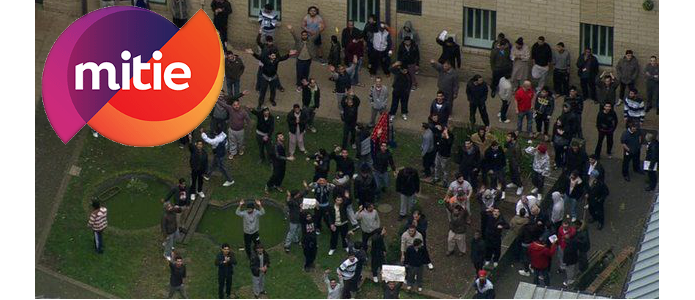 Outsourcing corporation Mitie has announced that it will be taking over the Home Office contract to manhandle migrants onto deportation flights. It will replace Capita's subsidiary Tascor in this role, starting from May 2018.
The so-called "escorting" contract includes providing security guards for both standard scheduled flights, where usually just one person is deported with a number of guards, and mass deportation charter flights. It also includes prisoner transport between detention centres and running the Home Office's numerous short term "holding facilities", for example where people are kept after being picked up at ports or airports before being moved to longer term detention. According to Mitie's press release, the new contract will be for ten years and is worth "an estimated £525 million".
Capita's subsidiary Tascor, previously known as Reliance, took over the contract in May 2011 from G4S. This was a few months after Jimmy Mubenga died after being restrained by three "escorts" employed by G4S on a deportation flight to Angola in October 2010. The three men were later acquitted of manslaughter and no charges were ever brought against their employer G4S.
Mitie, G4S and Capita are three of the main outsourcing companies which effectively rotate Home Office and other UK government contracts between themselves. All use the same basic business model, which involves cutting costs with low wages and minimal safeguards.
Scandals hit these contracts at regular intervals. As a result the company involved may get replaced by one of the others but can still bid for, and win, different government contracts. Or it may just bid for the same one again a few years later once the "heat" has died down. The staff may simply transfer over when contracts change hands, leaving exactly the same conditions and culture in place.
Mitie also currently runs the Heathrow detention centres, Harmondsworth and Colnbrook, plus the Campsfield House detention centre near Oxford.
Corporate Watch has written extensively on Mitie, on both its work as a detention contractor and its MiHomecare business, which it sold for just £2 earlier this year after home care workers challenged below minimum wage pay rates. See here for links to all our coverage of Mitie. See here for our recent (2016) profile of Capita and Tascor.
Two other big Home Office contracts are still out to tender. The closing date for bids on the notorious £3-4 billion Asylum Accommodation contracts is set for this Sunday 17 December. The Gatwick detention centres (Brook House and Tinsley House) re-tender now closes on 23 February 2018. G4S currently runs the Gatwick migration prisons and also has regional asylum housing contracts: the big question is how it will fare in contract renewals after the recent attention on its brutal regime in Brook House.